Party In The Park 2019
The event has now happened!      The Poynton Party in the Park 2019 show was amazing.    The next event is planned to be on 13th June 2020 – SAVE THE DATE!

NEWS – Ticket Scanning:  Just to let you know that we have moved away from manually posting out individual wristband purchases.  For 2019 we set up a 'Buy now!' secure link to our on-line, low cost, ticket company. They will send you a scan code for each ticket purchased.
All you do is bring a printed copy of the ticket with 'scan code' image to the stewards at the entrance to the park. A tablet or mobile phone image would also be possible if the image is clear.  We will scan it and then give you a wristband to acknowledge your entry, and allow you to also re-enter later.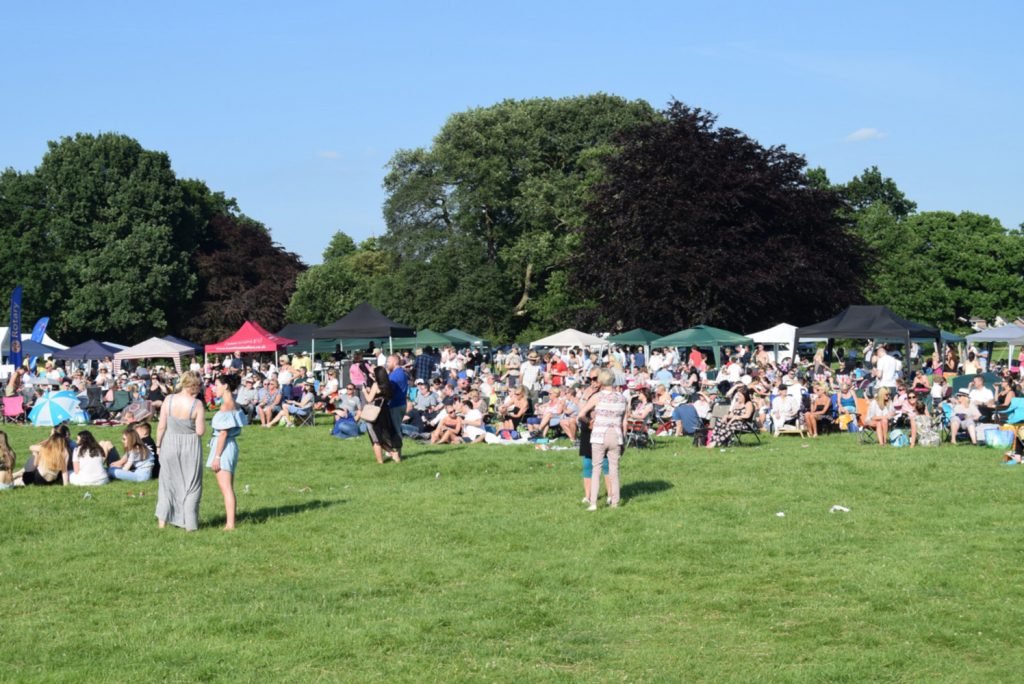 NEWS – Park Entry & Exit:   Another change we introduced for safety reasons was to  separate vehicle entry and exit gates. This year in 2019 you drive in at the first vehicle gate on South Park Drive (SK12 1BN), and you exit by the vehicle gate at the top of South Park Drive (See the purple arrows on the layout plan).
There is free parking as in previous years within the park.
Pedestrians  only enter by a separate gate at the bottom of South Park Drive near to the lake (see the blue arrows on the layout plan)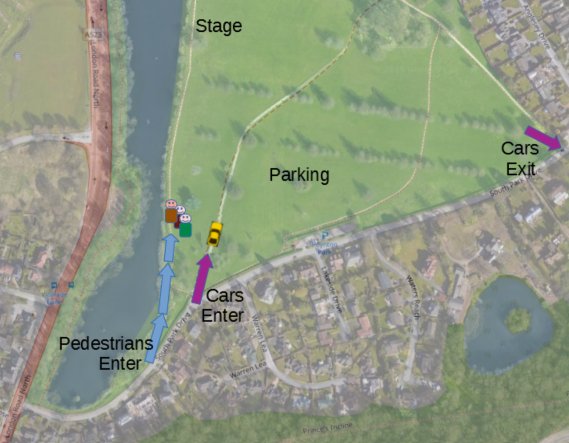 NEWS – On-line purchased Tickets will have single use scan codes which means after a valid scan on entry, you will receive the wristband, which must be worn during the event.   Alternatively wristbands may be purchased by cash or payment card, at MATES DIY, several weeks before the event right up to the actual day. Please ensure that you bring the scan codes or wristband to enter the event.  Sorry – all early purchase reductions are now finished.
NEWS – Vendors:  To supplement your own party picnic, we had a number of  food and drink vendors planned, including a Drinks Bar,  The Coffee Pod,  Whippy Ice Cream,  Spud Van,  Wildfire Pizzas, NW Events Fish & Chips,  Sugar Donuts. We also had the popular Face Painting tent from last year.  We really appreciated the donations made by all these traders.
---
ENTERTAINERS:   This year's charity musical extravaganza took place on Saturday 15th June 2019 with 6+ hours of sensational live music for all tastes.    We started off at 4pm with a showcase of young talent from Poynton, whilst you enjoy your food and drink hampers.
This was followed by Poynton's award winning  Vernon Brass Band, who have been with us every year since the event started in 2004.
Next we had Paul Grant Reason performing an amazing tribute to George Michael.    Back again by popular demand were Monkey Harris who we knew would have  everybody on their feet dancing.  An hour later Paul Grant Reason transformed and lost his bristles in order to perform an incredible award winning tribute act to Robbie Williams.
Top of the bill this year was an incredible tribute band called Waterloo. The clue is in the name – they are considered the best ABBA tribute band. Take a look at our YouTube video and see them in action.  
Last but definitely not least was our very own
Leroy Lurve
who
compèred
the whole show.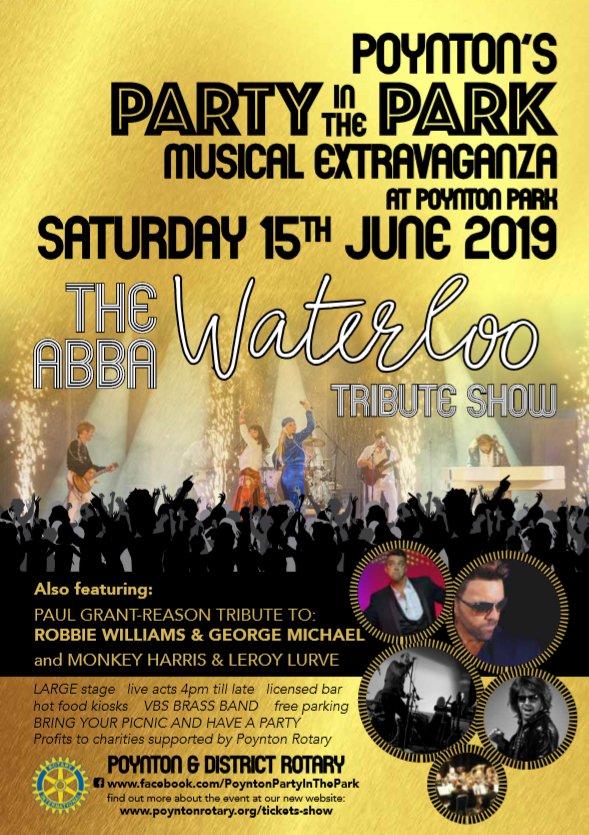 George Michael Tribute act by Paul Grant Reason.
His show is always a real must for all George Michael fans as he brings you the passion and energy of George Michael  in the 80s and beyond, that made him such a loved, global megastar.
Here is a photograph from the actual event held at Poynton Park in June 2019.
(Public domain YouTube Video by Shout Promotions –  Paul Grant Reason available to view)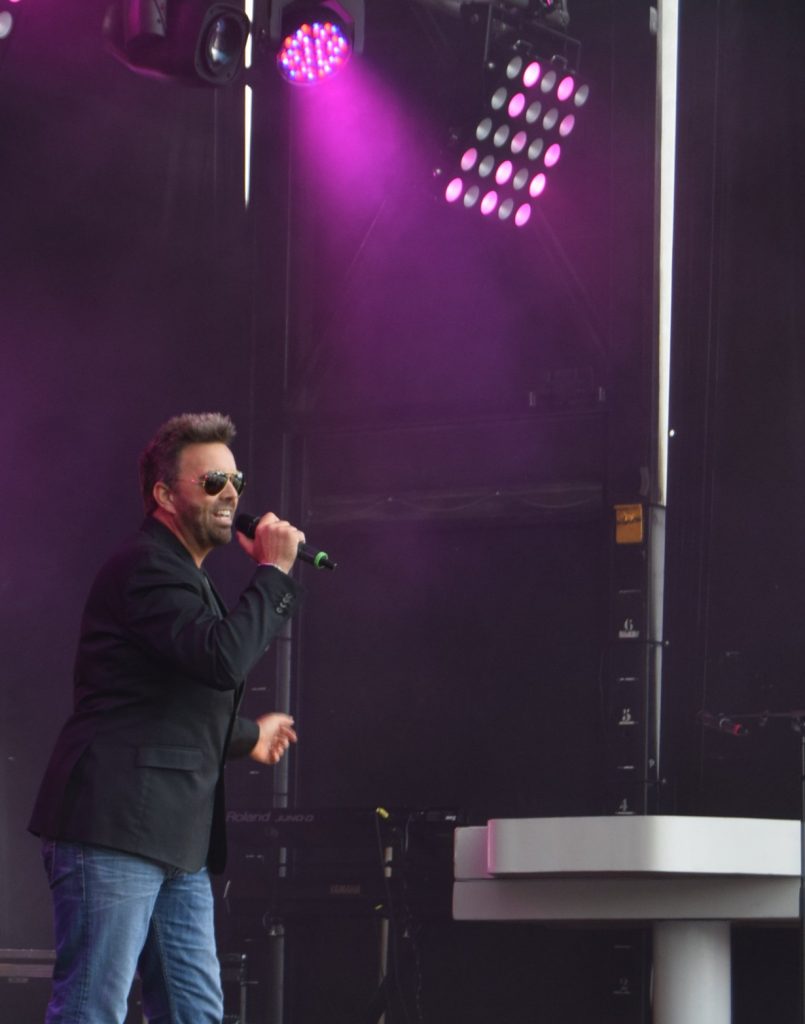 Robbie Williams Tribute act by Paul Grant Reason was an amazing act. You were in for a real treat! He has won the National Tribute award three times with the voice, look, mannerisms and stage presence of Robbie to absolute perfection. Just take a look at the video clip and see for yourselves. Here is a photograph from the actual event held at Poynton Park in June 2019.
(Public domain YouTube Video for sharing by therobbiewilliams.co.uk  –  Paul Grant Reason available to view)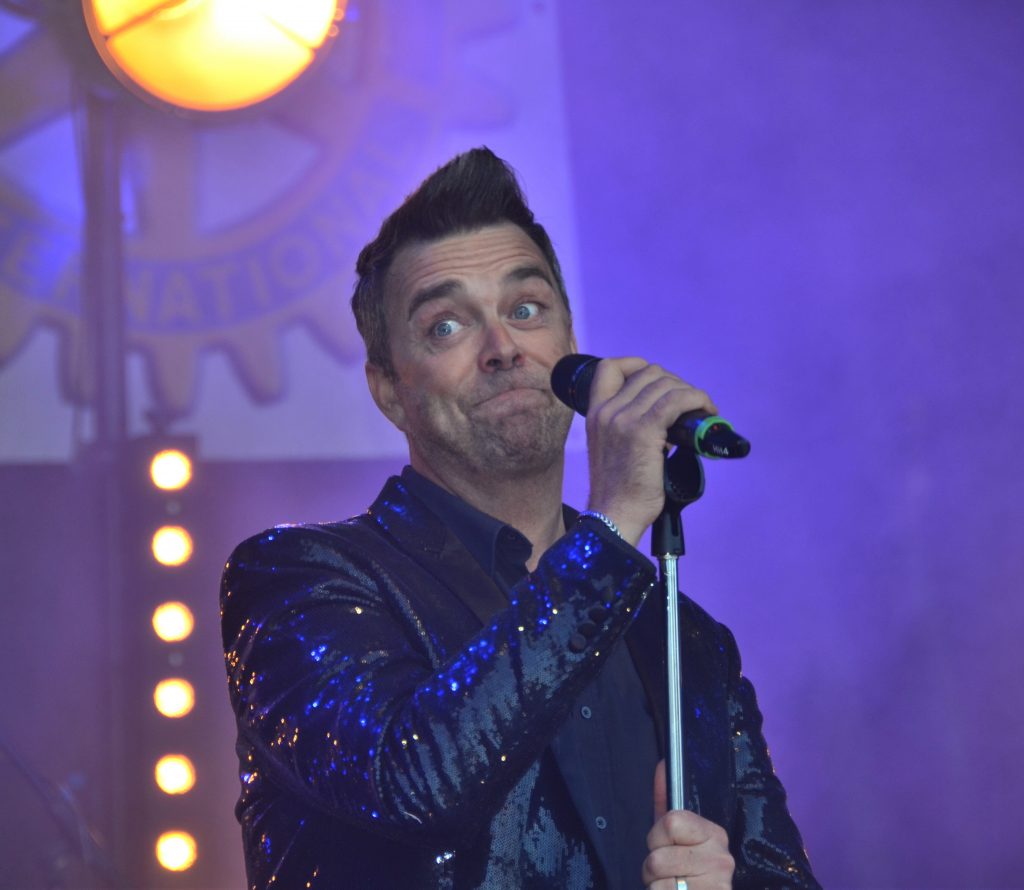 ABBA Tribute 90 minute act by Waterloo was just like watching the real ABBA back in the day when they were right at the top. Waterloo are deemed to be the very best of ABBA tributes. They are the most authentic ABBA show that you are ever likely to hear. They were top of the bill at the 2019 Party in the Park event brought to you by the hard working Poynton Rotary club.  Here is a photograph from the actual event held at Poynton Park in June 2019.
(Public domain YouTube Video for sharing by jamesbaker productions – Waterloo available to view)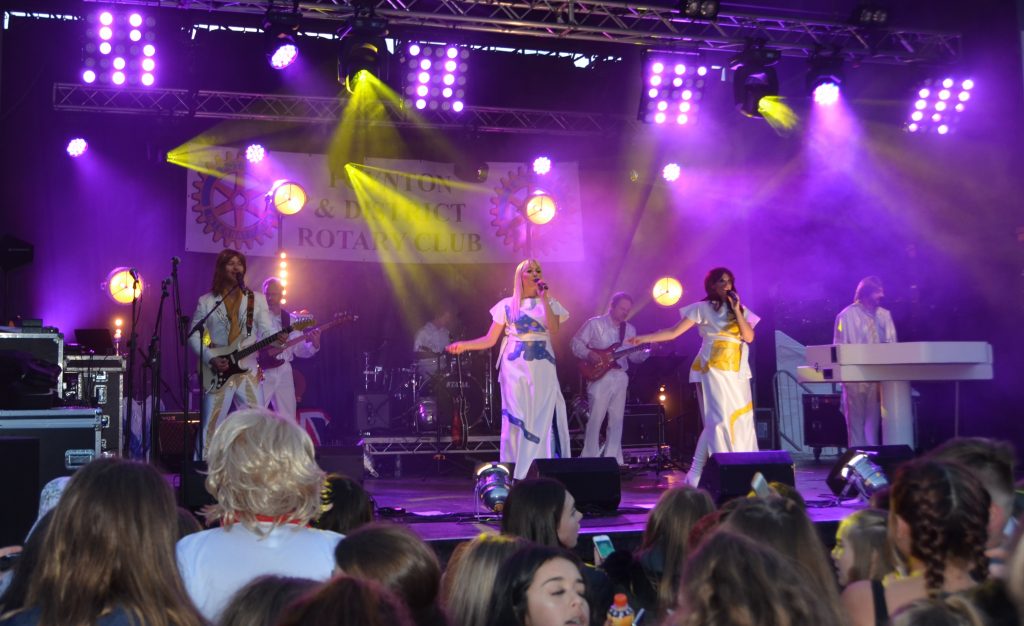 A taster video of a previous Poynton Rotary's Party in the Park.
You may even spot yourselves in the crowd if you look closely!
Keep up to date on our Facebook page for Poynton Party In The Park.
ENJOY!
BUYING TICKETS:
Party In The Park is a 'not for profit event' so the good news is that all surplus/profits from the event go to charities and worthy community causes supported by Poynton and District Rotary Club. 
The new booking system is CLOSED – event was successfully held on 15 June 2019.

PRICING
| | | | |
| --- | --- | --- | --- |
| Price Breaks: | Early (April ) | Reduced (May) | List (June) |
| Family Ticket (2 adults & 2 children) |   | – | – |
| Adults |   | – | – |
| Children aged 5 – 16 yrs (under age 5 are free) |   | – | – |
|   |   |   |   |
|   | Standard | Large | Very Large |
| Gazebo Plots (3 sizes): | 3m x 3m | 6m x 3m | 9m x 3m |
|                                               now closed |  – |  – |  – |
PURCHASING
Terms & Conditions:   Dogs, BBQs, Chinese lanterns & other naked flames are NOT permitted. Those aged 16 and under will be refused entrance unless accompanied by an adult. Extensive security will be in place across the venue and we reserve the right to carry out bag searches. In the interest of health and safety to the public, vehicles will not be allowed in the gazebo area, but may use a designated dropping off area up to 4pm.  Vehicles may be left overnight, at the owners risk, providing they are removed before noon on Sunday 16th June. In the unlikely event that the concert has to be cancelled or abandoned no refunds can be made.  
In addition to generous Sponsorship, there are 3 methods to buy your tickets (see the options below).  We recommend for the best discounts, buy your tickets from April onwards using option 1 method.
Option (1) On-Line:  If you are ready to purchase any combination of Adult, Child, or Family tickets, or Gazebo Plots, please click on the green button or 'Buy now!' to transfer to our secure payment site. There are no hidden extra purchase costs to buying your tickets using this system. You will be emailed a special code for each ticket which will then be exchanged for a wrist band on successful scan on entry. It is important that you bring a paper printout or an image of the codes on your electronic device.  NOTE – This facility will close at noon on the 15th June 2019.       CLOSED
Option (2) Visit MATES DIY shop, at 2 Park Lane, Poynton and purchase using either Cash or Payment Card from 15th May 2019. You will be given wristbands for each Adult or Child ticket purchase. It will not be possible to purchase a Gazebo plot from Mates DIY.  NOTE – This facility will close at 2pm on the 15th June 2019     CLOSED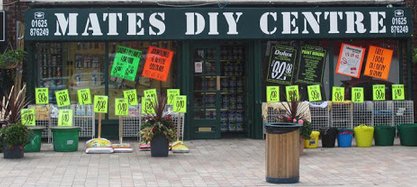 Option (3) Purchase on site. It will be possible on the 15th June 2019 to purchase at the entrance to the park, at the ticket List price.  You will be given wristbands for each Adult or Child ticket purchased by payment card only.   It will not be possible to purchase a Gazebo plot on the gate, they need to be purchased in advance on-line. 
Please note there may be some queues at the entrance during busy times, with this option. NOTE – This facility is closed                                                                     CLOSED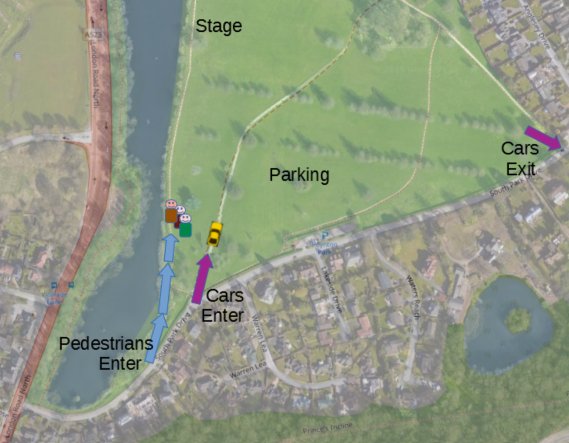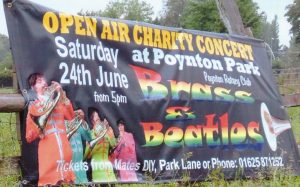 After ten successive years in Alderley Edge, this fantastic Brass & Beatles event changed location for 24th June 2006 to the beautiful lakeside setting of Poynton Park, and run by
Read More »